Councillor Jenny Hannaby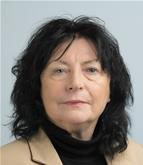 Party: Liberal Democrats
Division: Grove & Wantage
Other councillors representing this Division:
Parish: Grove: Mably Parish Ward ; Grove: North Parish Ward ; Wantage: Charlton Parish Ward ; Wantage: Segsbury Parish Ward
More information about this councillor
Surgery details
All Surgeries held at Wantage Library from 10.30 am - 11.30 am:

27 July 2013
31 August 2013
28 September 2013
26 October 2013
Contact information
Home address:
Flat A
33 Wallingford Street
Wantage
Oxon
OX12 8AU
Phone: (01235) 767056
Mobile: 07736 893148
Email: jenny.hannaby@oxfordshire.gov.uk
Note : democratic.whitehorsedc.gov.uk/mgUserInfo.aspx?UID=130
Download Councillor Jenny Hannaby contact details as VCard
Oxfordshire County is not responsible for the content of any external link
Committee appointments
Terms of Office
08/06/2009 - 02/05/2013
03/05/2013 - 04/05/2017
08/05/2017 - 10/05/2021
Appointments to outside bodies
Additional Information
Lived in Wantage area for 59 years. Recently retired from family Building Company. Wantage Town councillor since 1995 serving four terms as Town Mayor. A member of Vale White Horse District Council, elected in 2003 Elected to County Council in 2008. Has three adult children and six grandchildren. Interests are supporting Local Community Groups, art and travel.
Election Results