Councillor Jane Hanna OBE
Councillor Jane Hanna OBE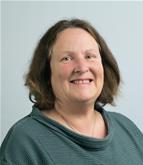 Party: Liberal Democrat Green Alliance (Liberal Democrat Member)
Division: Grove & Wantage
Other councillors representing this Division:
Parish: Grove: Mably Parish Ward ; Grove: North Parish Ward ; Wantage: Charlton Parish Ward ; Wantage: Segsbury Parish Ward
More information about this councillor
Contact information
Correspondence address:
c/o County Hall
New Road
Oxford
OX1 1ND
Mobile: 07479 493263
Email: jane.hanna@oxfordshire.gov.uk
Download Councillor Jane Hanna OBE contact details as VCard
Committee appointments
Terms of Office
16/11/2018 - 10/05/2021
10/05/2021 - 12/05/2025
Additional Information
Jane has lived in Wantage for more than 20 years and has brought up her family there. Jane works three days a week as CEO of SUDEP Action, a national epilepsy and bereavement charity based in Wantage. Awarded an OBE for services to families. Volunteers for Oxfordshire County Council as a family 'buddy'. Formerly after qualifying as a barrister, Jane was a law fellow at Oxford University setting up the first law department at Harris Manchester College to increase access to Oxford University to mature students who had previously been disadvantaged during their school years. Elected to County in 2018 (formerly Vale District Councillor 2007-2013).
Election Results